Bark Collar vs Shock Collar: Understanding the Difference
Confused between a bark collar and a shock collar? Read on to find out the difference!
Written by Sarah Connor - Pet Nutrition Expert. Updated on 27/07/2023.
Difference Between a Bark Collar and a Shock Collar
Bark and shock collars, when used correctly, can speed up training, especially if you're working with a positive trainer. Shock collars or training e-collars can also be used from a remote location, generally within 1600 feet, more or less to help enforce positive behavior, often getting a dog out of danger.
This blog will discuss the differences between bark and training (shock) collars and help you decide which one might better match your furbaby. The most important thing to do is to ensure your dogs know what you're asking and to work on basic commands before using any shock collar.
Also, shock collars usually have three modes, and you can opt to use beep or vibrate modes and not the adjustable shock mode unless you have an urgent situation in which your dog is in danger and is not responding to the recall cue.

Bark collars help curb nuisance barking. These collars don't have to be used long-term, have numerous benefits, and are popular among positive dog trainers.

Shock collars are often referred to as training or e-collars. They work when a pet parent or trainer decides when to deliver a correction based on the dog's behavior and can be used to support remote long-range training. Here's the takeaway:
Written by Sarah Connor, an experienced canine trainer and nutritionist for over a decade. Her positive reinforcement methods and passion for pups make her a go-to for dog owners.
Thinner, Lightweight With Sleeker Design
Today's shock collars are thinner, sleeker designs and feature three training modes: beep ( standard), vibrate ( standard), and safe shock. ( adjustable with sensitivity levels ranging from 1 to 16 levels). Most dog trainers and pet parents opt for low-stimulation training to ensure safety and humane practices and combine positive training methods with shock collars.

Many high-quality Smart AI dog training collars are easily rechargeable, IPX7 waterproof, and easily charged via a phone charger. Remote batteries usually last for a month, and the receiver 11-15 days.

These training collars offer versatility, addressing a range of behaviors, not just barking. Remote training collars are particularly versatile for obedience, off-leash training, and behavior modification, but they need to be used correctly and humanely together with positive training.
Redditors Comments
We always enjoy combing through dog training comments on Reddit and want to share some of these posts to help you decide which collar to use. Many trainers recommended training a dog for the "quiet command."

One Redditor added, "My dog barked the entire time I was gone, and I live in an apartment. I bought a shock collar that increases the shock if they bark multiple times. It shocked him once, and he has never barked with it on since. I still put the collar on him when I leave, but I don't have the battery in it, and he is none the wiser. I move into a house next week, so he will be mostly done with the collar and can bark all he wants."

Another Redditor said, "Yep. And FWIW, I haven't used the collar on her in almost a year, but her recall is about 95%, and she knows to come to check in with me every 5 minutes or so and stay within eyesight."
Basic Training First
The takeaway with shock collars is that you can use a beep, vibration mode, or a low stimulus shock mode when training for obedience, but your dog should be obedience trained first and understand the basics like " sit," " stay," " down," and " stand stay," as well as recall. If your dog doesn't have basic training, do not use a shock collar. You should never use a shock collar on a dog for something he needs help understanding.
Training Aids
Both bark and shock collars are training aids and are used with treats and praise as rewards to reinforce behaviors. Both collars should not be used on aggressive, shy, pregnant, lactating, or pups under six months of age.
Constructive Behavior
Bark and shock collars don't have to hurt your dog when used correctly, and dogs learn constructive behavior even when collars are removed. Many pet parents have used a dummy collar to trick dogs into thinking the bark or shock collar is on after training with either bark or shock collars. Applying pressure to a dog wrongly will cause stress in dogs, and there are many ways to use shock collars.
Desired Behaviors
Dogs learn quickly to perform the desired behaviors to get that reward. When used with positive reinforcement and a professional dog trainer initially, both bark collars and shock collars, positive associations, and desired behaviors tend to stay with the dog for life.
How Does a Bark Collar Work?
Bark collars address excessive barking by correcting when the dog vocalizes. Several types of bark collars include spray, vibration, and static correction. Spray collars emit a burst of citronella or other scent when the dog barks, while vibration collars deliver a vibration as a correction. Bark collars are usually also activated automatically when the dog barks. These collars are used solely for excessive barking and not for other training purposes.
How Does a Shock Collar Work?
Shock collars feature adjustable, stylish training collars that deliver a static correction, or electric shock, to the dog when triggered by a remote or an automatic sensor. They are primarily used as a training tool for various behaviors, including obedience, hunting, and agility training.

The key feature of an e-collar or shock training collar is that most shock collars are controlled with a remote and used for various training purposes, not just to curb excessive barking. Shock collars also feature multiple intensities and are adjustable, allowing you to easily adjust the stimulation intensity from a mild tingle to a more noticeable shock.
Pros and Cons of Bark Collars
While a bark collar may work for some dogs, it is essential to understand that it is not a solution for every dog. It is crucial to determine the reason for excessive barking, such as boredom or anxiety, before using a bark collar. Additionally, bark collars should only be used as a last resort, and positive training methods and behavioral issues should always be explored first.
Pros and Cons of Shock Collars
Electronic collars are remote-controlled and deliver either a vibration or a shock to the dog's neck when the collar's button is pressed. The stimulus provides a cue for the dog to stop or start a behavior. For example, if a dog jumps on people, the collar can interrupt the jump and redirect to a desired behavior.

Bark collars are designed for correction and only go off when the dog has barked excessively. The idea behind bark collars is to allow the dog to learn that their barking will trigger an uncomfortable consequence, discouraging them from barking in the future.
Shock Collar or Bark Collar: How to Choose?
A bark collar only targets nuisance barking, while a shock or e-collar is used for broader training purposes and is very popular for boundary or off-leash training. Bark collars ensure that corrections are delivered at the right time and are specifically targeted. The role of the sensors on the bark collar is essential in distinguishing between necessary barking, such as alerting pet parents, and excessive or nuisance barking.
No Bark Collars for Separation Anxiety Barking
When deciding between a bark collar and a training collar, it's essential to consider whether or not it's a behavioral or training issue. For example, a bark collar may be appropriate if a dog only barks while you're away, but if it's due to separation anxiety, the bark collar will not be a long-term solution.
Shock Collars for Correcting Multiple Behaviors
On the other hand, a training e-collar or shock collar may be effective for obedience training or breaking habits. Unlike bark collars, shock collars are designed to correct multiple behaviors, not just barking.
Transmitter/Receiver for Behavior Modification
Shock collars come with a transmitter and receiver system. The transmitter allows for convenient input of commands by the pet parent or trainer, while the receiver facilitates behavior modification. The shock collar enables effective distance dog training and correction for various behaviors.
Bark Beyond Training Shock Collars
Shock collars have a reputation for being inhumane and causing harm to dogs, but modern e-training collars like the Bark Beyond V1 and Bark Beyond S2 have come a long way. They include tones and vibrations as well as a very gentle shock feature and are crafted with up to 8 levels of stimulation that can be calibrated to be gentle and comfortable for the dog. Additionally, you should always consider the level of control and supervision during use. While bark collars are an automatic response, training collars require remote control and management.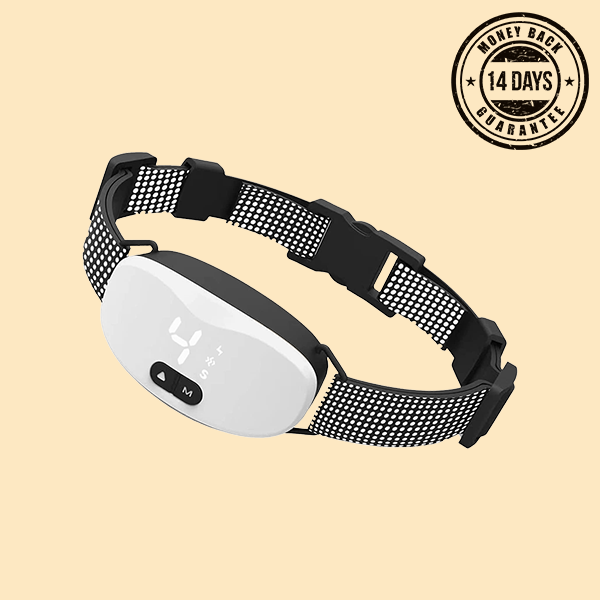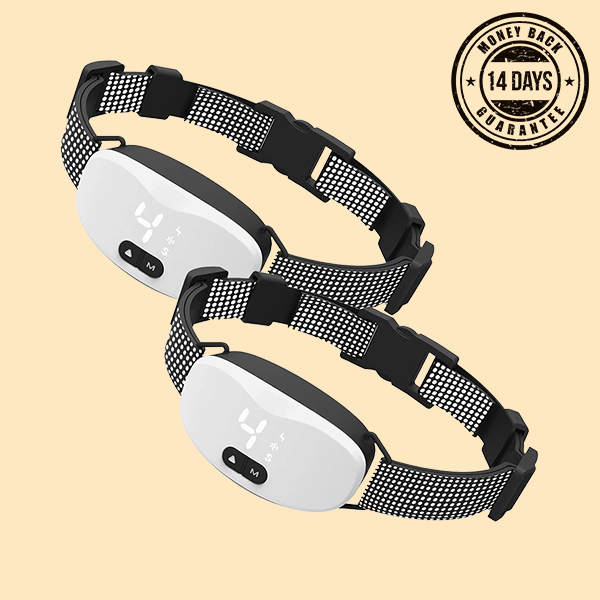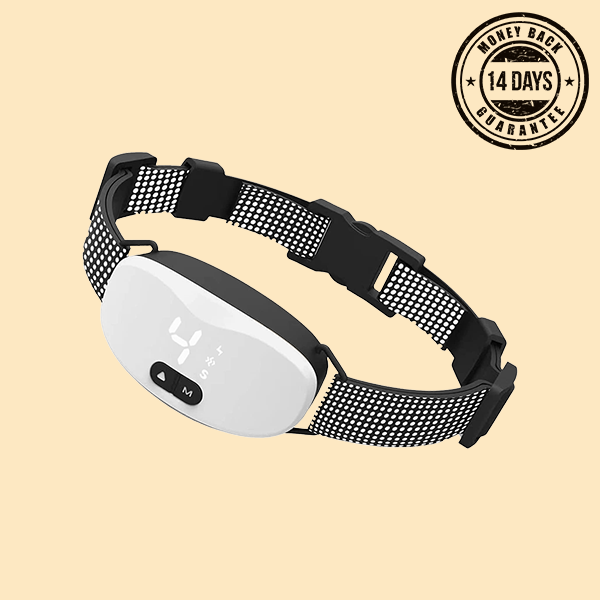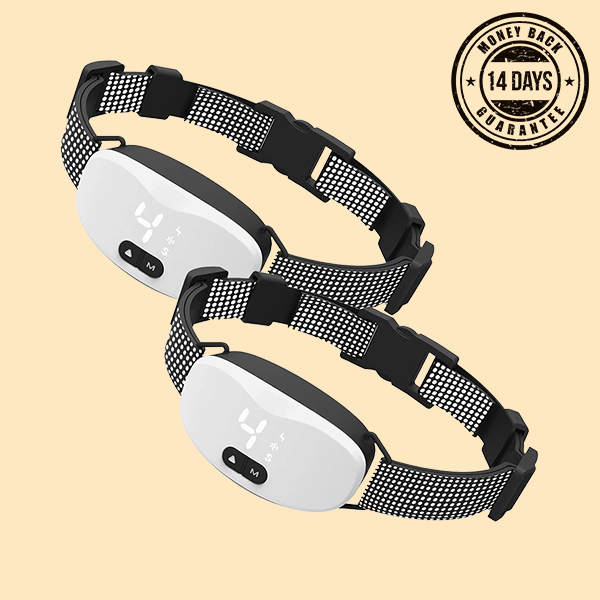 Tips for Shock Collar Training
Always use your shock collar humanely and in a way that does not hurt your dog. Electronic collars use static electricity with no permanent damage, but if you're not using it right, it can cause plenty of damage. Shock collars work well for open spaces for recall work. This is a positive reinforcement tool when used correctly.

Never use this tool to teach your dog a new command. This is a dog training tool to use on your dog only when he's been introduced to and knows his cues. Your dog should be basic training proofed and also comfortable with all basic training before using an e-collar.
Lowest Setting
After this, when introducing this collar, start on the lowest setting only, and you can use vibration first. Go high enough until you get his attention. Never go too high and hurt; this will ruin your relationship with your dog. Always use positive reinforcement with this e-collar.
Associate Tone With No
Teach your dog to associate the vibrate with " no." Prongs have the risk of an infection, of skin becoming raw- make sure never to leave the collar on your dog for a long time. Remove the collar when done with training and keep remotes far away from children.
The fit must be correct, and the e-collar should be placed higher up on the neck than lower down.
Prongs should sit on the skin. It should be on a spot on the neck where it won't loosen.
Store both remote and collar ( must be waterproof). Charging gear may not be waterproof and should be stored in a gallon ziplock bag.
Use a shock collar instead of a clicker with at least three functions: tone, simulation, and vibration. Use the collar technique in the same way as you use a clicker and reward with a click when a dog eats the treat.
Do this 4 or 5 times so that the dog gets used to the tone of the collar in the same way that the dog gets used to the shock collar via tone mode.
Timing of praise and reward is key to training with e-collar. Reward early on so that the dog understands what you want. When the dog gets used to the tone, this opens up a way to give positive reinforcement when your dog does what you want.
Use the e-collar via tone mode and take probes out to use this collar to reinforce even when 100 yards away positively. With this collar, you can get your dog to pay attention to recall, even with significant distractions. When there's a potential for distraction and when your dog is off-leash, if something like a rabbit distracts your dog or even if an e-collar could prevent a dog fight, you know that you can get your dog's attention and prevent a dog fight.
Always remove the shock collar after training. Never leave it on. Manuals are a must-read and high-quality products from SportDog or Bark Beyond always have good customer service and will always get back to you and help reset the collar if you have an issue with the collar. YouTube e-collar how-to-use training videos are also essential to watch so that you understand how to use an e-collar safely on your dog.
Work with a professional trainer first before using either collar.
Making an Informed Decision: Facts to Consider
Understanding the differences between the two is essential to deciding which method to use. Unfortunately, the decision isn't always an easy one to make. Bark collars are designed to control excessive barking humanely but may not work on all dogs. For instance, a sensitive or fearful dog may not respond well to a bark collar.

Additionally, bark collars may not work on dogs that bark for other reasons, such as separation anxiety. Shock collars, or electronic collars, deliver a mild stimulus if a beep or vibrate is used to the dog's neck to stop unwanted behaviors, such as barking, digging, or jumping on people. The level of shock can be adjusted, and most people use the tone mode. Many pet parents prefer shock collars because they see immediate and effective results.

However, shock collars may not work for all dogs, especially those with a sensitive or shy temperament. The collar can cause fear, anxiety, or aggression, leading to worse behavior. The key takeaway with both the bark collar and the shock training collar is to first work with a trainer and watch YouTube videos on how to train with a shock collar.
Bark Collars: Automated Correction for Excessive Barking
Activation: Automatic vs. Manual Control
Bark collars offer an automated solution to address excessive barking concerns, especially when pet parents are away. These collars have sensors that detect barking and deliver automatic correction, effectively curbing the dog's tendency to bark excessively without human intervention.
Shock Collars: Manual Control for Training and Behavior Modification
Shock collars, also known as training or e-collars, require manual control. With shock collars, pet parents or trainers can deliver corrections based on the dog's behavior. These collars are versatile and can address various behaviors beyond just barking. Remote training collars, a subset of shock collars, are well-suited for obedience, off-leash, and behavior modification.
Customization, Versatility, and Intensity Levels
Customization: One of the most important aspects of a shock collar is the ability to customize your dog's settings. Every dog is unique and responds to different stimuli, so it is crucial that the collar can be customized to meet their individual needs. Look for collars with adjustable levels of shock, tone, and vibration and different types of stimulation, such as continuous and momentary. Additionally, consider the size and weight of the collar – you want to make sure it is comfortable for your dog to wear for extended periods.
Versatility: Shock collars can be used for various training purposes, so the collar must be versatile and adaptable to different situations. Look for collars with three modes: beep, vibration, shock, and ranges and frequencies. This will allow you to use the collar for different types of training, such as obedience, hunting, and agility. Additionally, consider the remote control range – you want to ensure you can control the collar from a distance and in different settings.
Intensity Levels: The intensity of the shock is one of the most important considerations when choosing a shock collar. While some may argue that shock collars are cruel, it is essential to remember that the shock should only be used as a last resort and at the lowest practical level. Look for collars with a wide range of intensity levels so you can start at the lowest setting and gradually increase if necessary. Additionally, consider collars with safety features, such as automatic shut-off, to prevent accidental overstimulation.
On the other hand, a training e-collar or shock collar may be effective for obedience training or breaking habits. Unlike bark collars, shock collars are designed to correct multiple behaviors, not just barking.
The Role of Positive Training in Behavior Modification
One of the most challenging things to understand is that dogs are avid learners and learn precisely what we teach them. Sometimes, we teach them the wrong behaviors without even doing so on purpose.

If you're repeatedly reinforcing what you don't want and training your dog to do what you don't want, it's time to work with a positive trainer and concentrate on the behavior you want. Positive training allows for faster learning and enables your furbaby to make the right choices.
Behavior Modification
The first step in behavior modification for dogs is identifying the root cause of the behavior. It can be fear, separation anxiety, lack of socialization, or other reasons. Once the cause is identified, the training process begins.

Positive training focuses on reinforcing desirable behaviors rather than punishing unwanted ones. It involves using rewards such as treats, toys, or praise to encourage dogs to repeat good behaviors and ignore or redirect unwanted ones. This approach is effective because it establishes a positive relationship between the pet parent and the dog, builds trust, and motivates the dog to learn new behaviors.
Benefits of Positive Reinforcement
One of the main benefits of positive reinforcement training is that it helps to prevent and reduce aggressive behavior in dogs. Aggression often results from fear or anxiety; traditional training methods can worsen it by increasing dog stress levels.

Conversely, positive training helps dogs learn that good behavior is rewarded, and they don't need to resort to aggressive behavior to get attention or avoid something they fear.
Positive Reinforcement Training
Positive reinforcement training can also be used for behavioral issues like jumping, barking, or chewing. These behaviors are often the result of boredom, lack of exercise, or poor training.

Pet parents can use positive training methods to help their dogs learn new, more desirable behaviors, such as sitting, staying, or fetching. This can also create a more positive relationship between the pet parent and the dog, increasing the dog's overall happiness and well-being.
Strengthens Bond
In addition to behavior modification, positive training can improve a dog's overall temperament and personality. Dogs trained positively are more confident, obedient, and socialized than those taught using punishment or aversive methods. A combination of both positive training and shock collar via low stimulation (beep) allows for optimal results.

Dogs will also be more willing to learn, less anxious, and capable of adapting to new environments and situations. When paired with Smart AI dog training collars, positive training will strengthen the bond between the pet parent and the dog, creating a more harmonious household environment.
FAQ's Bark Collar vs Shock Collar - Understanding The Difference
Q: Which is better, a shock collar or a bark collar?

A: Both bark and shock collars feature adjustable settings and different strength levels, allowing you to use the lowest stimulation while training. Safe beep or vibrate options that are mild, effective, and humane can help correct behavior in a short amount of time. Both must be used carefully to avoid confusing a dog while allowing for better behavior.
Q: Should I use a shock collar for barking?

A: Shock collars with security keypads and locks offer optimal protection against mishaps. These should be used on beep and vibrate modes not to hurt your dog. Both bark collars and shock training collars are effective. Bestselling anti-bark collars like the BarkBeyond S2 are user-friendly and hassle-free, allowing pet parents to operate and adjust the settings as needed for their dogs.

Most importantly, they have top-of-the-line manuals with how-to-use instructions. Their online store provides fast and free shipping all over the United States. Additionally, the customer service team is well-versed in all aspects of dog training, and they will help you to have a smooth and practical training experience and troubleshoot any product glitches when setting up.
Q: Are shock collars and bark collars bad?

A: No, dog training collars, when used with a low setting and combined with positive training, help redirect your dog to better behavior—long walks, plenty of interactive dog toys, DOG TV, and obedience training also help to eliminate problematic behaviors.

But suppose your dog is anxious, aggressive, or has a noise phobia, noise anxiety, depression, or separation anxiety. In that case, you must consult a veterinary behaviorist to work through these issues and not turn to training collars, as these will exasperate any behavioral problems. Be in tune with your dog and understand his environment, people around him, health issues, and what he may be going through.
What are the differences between shock and bark collars?