Top-Notch

Pet Gear, Tailored Just for Your Furry Friend

Hey there, pet parents! At BarkBeyond, we get it – your four-legged pals are more than just pets; they're family. That's why we're all about providing the best products for your beloved furballs. From our innovative training collars to cozy pet beds and everything in between, we've got your pet's comfort and happiness covered.
Sale price
$149.00
Regular price
$248.00
Why BARK BEYOND E-Collar Training?
At Bark Beyond, you can train your dog like a professional and see results fast! With innovative technology, Bark Beyond Smart AI e-training collars make reinforcing positive behaviors easy and correcting unwanted ones possible from up to 800 meters away!
The fully adjustable and waterproof design of the Bark Beyond E3 ensures a comfortable and customizable fit. Enjoy advanced yet safe features and quality you can trust. Transform favorable training time into memorable bonding moments with your furbaby! Bark Beyond dog training products are versatile, trusted, and used by professional dog trainers worldwide!
Bark Beyond E3 - E-Smart AI Collar
Bark Beyond offers a stylish new line of bestselling dog e-training collars like the Bark Beyond E3 E-Collar. Bark Beyond Smart AI training collars are lightweight, durable, and waterproof. This collar has been rated #1 in 2023 and is renowned for its waterproof design, adjustable levels of vibration and shock, multiple training modes, and an impressive 800m range remote control. 
The shock -collars are easily cleaned, making them a hygienic choice for an adventurous pup. As a bonus, it has user-friendly features such as an LED screen, energy-saving mode, and adjustable collar size for all dog breeds, small and large.
Sale price
$149.00
Regular price
$248.00
Ensuring Your Dog's Safety
When it comes to e-collar training, your dog's well-being is of utmost importance. Your dog must be in good health before starting any e-collar training sessions. Keep in mind that Bark Beyond e-collars are not suitable for dogs weighing less than 10 pounds or under six months of age.
Taking care of your dog's skin is essential during e-collar training. Long-term use of the stainless steel contact points on the training collar can cause skin irritation. It is usual for most dogs to experience some form of irritation known as pressure necrosis when in contact with stainless steel contact points for an extended period. 
To prevent this, avoiding having your pup wear the e-collar with the contact points in the same spot for more than two hours at a time is highly recommended. If your dog is wearing the e-collar for long periods, occasionally reposition the e-collar so that the contact points are not on the same part of your dog's neck.
How To Pick a Shock Collar?
With safety as our priority, positive training leads to happy and healthy pets. That's why we only recommend brands who put their customers first when crafting their products with thoughtful design details and reliable quality construction. You can trust Bark Beyond has done its research, so you don't have to! 
How do E-Collars Work?
Shock training collars, also known as remote training collars, utilize a radio signal to transmit a mild stimulus from a remote control (transmitter) to a receiver collar worn on a dog's neck. These collars serve the purpose of discouraging negative behavior and promoting obedience to commands.
The delivered stimulus aims to momentarily distract the dog by providing an unpleasant sensation, similar to a gentle static shock experienced when touching a metal doorknob after shuffling feet on a carpet. 
It is important to note that while the sensation startles the dog, it does not cause harm. The stimulus is designed to get your dog's attention and help refocus it.
How We Source and Ensure You Get the Best E-Collars?
At Bark Beyond, we understand the importance of quality products, so we only source our Smart-AI E-Collars from reputable companies. We ensure that each collar model passes our stringent quality control process, and we only offer safe and humane models with over 1,000 positive reviews. Additionally, we offer a 14-day guarantee so you can have peace of mind knowing that you're shopping confidently.
Easy-to-Use Dog Behavior Correction E-Collars
The Bark Beyond E3 remote dog training collar is easy to use and set up. Our E3 dog training e-collars are designed to be intuitive and user-friendly, making it easy for you to get started with training your furbaby!
Our long-range shock collar with 800 m long-range remote also includes a comprehensive user guide, providing you with all the information you need to train your dog. The Bark Beyond E3 waterproof shock-collars are designed to be very functional, 100% safe, and aesthetically appealing.
Handling Aggressive Dogs
It is important to note that Bark Beyond does not recommend using e-collars to correct aggression in dogs towards other dogs or people. Using the e-collar may escalate the dog's aggression as they associate the stimulation with the presence of the other dog or individual. It is always best to seek the assistance of a professional dog trainer to address dog aggression effectively.
Our Expertise
Our team of dog training and pet product experts is here to help you find an e-training collar for your dog. We can answer any questions about the different types of electronic dog training collars and how they work. We can also advise on how to use the collar and remote to get the most out of it. 
Expert Customer Service
At Bark Beyond, we are dedicated to providing the best customer service possible. Our team of experts is always available to answer any questions about our products or services. We are committed to providing the best advice and support to ensure you get the best training collar for your dog!
14-Day Money Back Guarantee
We are so confident in the quality of our e-collars that we offer a 14-day money-back guarantee. If you are dissatisfied with your purchase, return it within 14- days for a full refund. We want you to be completely satisfied with your purchase so you can rest assured that you are getting a high-quality Smart AI electronic collar and remote for your dog.
Understanding Proper E-Collar Use
Bark Beyond e-collars are crafted explicitly for positive behavior modification in dogs. They should not be used on humans or any other animals. Combining positive training with e-collar training is always best to get optimal results.
Please note that Bark Beyond cannot be held liable for improper use of the Bark Beyond e-collars. Invest in your dog's safety and behavior modification with Bark Beyond e-collars – the trusted choice of expert dog trainers!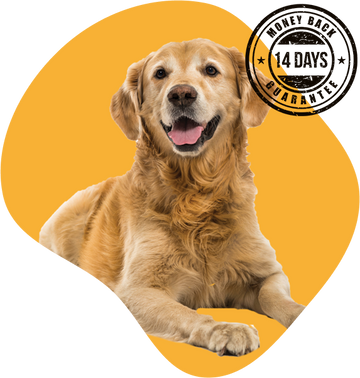 The BarkBeyond Promise
At BarkBeyond, your satisfaction is our utmost priority. We're confident that our innovative pet training collars and accessories will exceed your expectations, but we also understand that every pet is unique. That's why we offer a risk-free 14-day money-back guarantee. If, for any reason, you're not satisfied with your purchase, we'll happily refund your investment. It's our commitment to ensuring that you and your beloved pet experience the very best with BarkBeyond, hassle-free.