Do Bark Collars Work?
Ever considered getting a collar to curb your dog's barking? Read on to know if they actually work!
Written by Sarah Connor - Pet Nutrition Expert. Updated on 27/07/2023.
Do Bark Collars Work?
No matter how much positive training we do, our dogs can and do sometimes bark a lot. It's easy to think that you may be the only one dealing with excessive barking and question whether a dog bark collar via beep and vibration mode would work for your dog.
While an anti-bark collar via beep and vibration modes is the most popular option for pet parents, plenty of research shows that positive dog training, regular exercise, and mental stimulation also help reduce excessive barking.
Written by Sarah Connor, an experienced canine trainer and nutritionist for over a decade. Her positive reinforcement methods and passion for pups make her a go-to for dog owners.
"Great product! I have a Dachshund that goes wild barking if anyone arrives, and despite training, this has escalated over the years. This item has been worth its weight in gold! I have the shock switched off, and the sound on the lowest setting. The vibration is enough for him to be completely calm when new people arrive. He only wears it for brief periods, and we reward him for letting us put it on him- as he doesn't particularly like it. He also gets rewarded when we get a visitor, and he doesn't bark. Hopefully, long term, we won't need him to wear it at all! I can't recommend this product enough."

- Melissa A.

Verified Buyer
"I love everything about this device. I tried several once before, and different methods tried to stop my dog from barking. He would bark at the drop of a needle! You Can imagine how annoying that would be. I love that it has three different functions: sound, vibrate, or zapper. I never use the zapper, and I started with levels 2-3 using sound/vib, and he stopped at the lowest level! Perfect."

- Jonathan F.

Verified Buyer
Best Smart AI No Bark Collars
High-quality Smart AI bark collars like the Bark Beyond S2 and Sofrid S2 for small breeds feature seven different strength levels and allow for the sole use of beep and vibration modes for positive training. Both no-bark collars are easy to use and are dedicated to dogs' safety.

Crafted with two silicone sleeves to protect your dog's skin, Bark Beyond S2 and Sofrid S2 anti-bark collars are easily rechargeable within 30 minutes, work for 12 days, and are IP67 waterproof and durable. These high-tech bark collars offer a shock-free experience while offering the ability to set up vibration and beep modes for training.
Dummy Dog Bark Collar
When positive training, regular exercise, and dog sports are combined with a dog bark collar that's used for a short period, and pet parents transition to a dummy collar after a week or so, experts explain that dogs still think that the dog bark collar is on them and will not bark excessively even when the dummy collar is being used.
Social Isolation & Separation Anxiety
It's also key to remember that social isolation and separation anxiety play a significant role in excessive barking, and we may need to address social isolation and consider daily human-animal interactions and dog-to-dog interactions to tackle boredom barking.
Are Anti-Bark Collars Safe?
Bark collars can be a valid positive dog training tool in controlling nuisance barking. However, pet parents should consider their dog's welfare and choose a device that prioritizes safety.

According to many experts, using a bark collar that uses sound, vibration, or citronella spray can be a safer alternative to shock collars. Additionally, always consult a professional dog trainer or a veterinary behaviorist before implementing a bark collar to ensure it's the right solution for your dog.
Are Bark Collars Humane?
The debate about the humaneness of bark collars is ongoing, with many factors influencing one's perspective, such as the type of collar and the individual dog's sensitivity. Controlled unwanted barking is a common problem that pet parents face.

Experts explain that telling your dog to be quiet is wrong because the dog interprets your words as the same bark pattern he used. Your furbaby may think that you're sounding the alarm, and you may be triggering your dog to bark even more vigorously.
UKC Forum
The UKC forums add that the most common problem when using a bark collar is not utilizing the collar properly. A UKC forum member explains that sometimes these collars are put on so tightly that dogs get sore spots on their necks. The member adds that if you don't use dog bark collars properly, don't use them.

"The main thing that can be an issue is you must be careful how long you leave the collar on them. Too long and to tight, the prongs will make holes in the neck area, and leave it on for too many days can desensitize the neck, and the collar doesn't work as well," says another UKC member.

Some UKC members also purchase a dummy collar that they will transition to a week after using a bark collar and add that it works well with dogs thinking that the bark collar is still on them.
Best Bark Collars: Bark Beyond S2 and Sofrid S2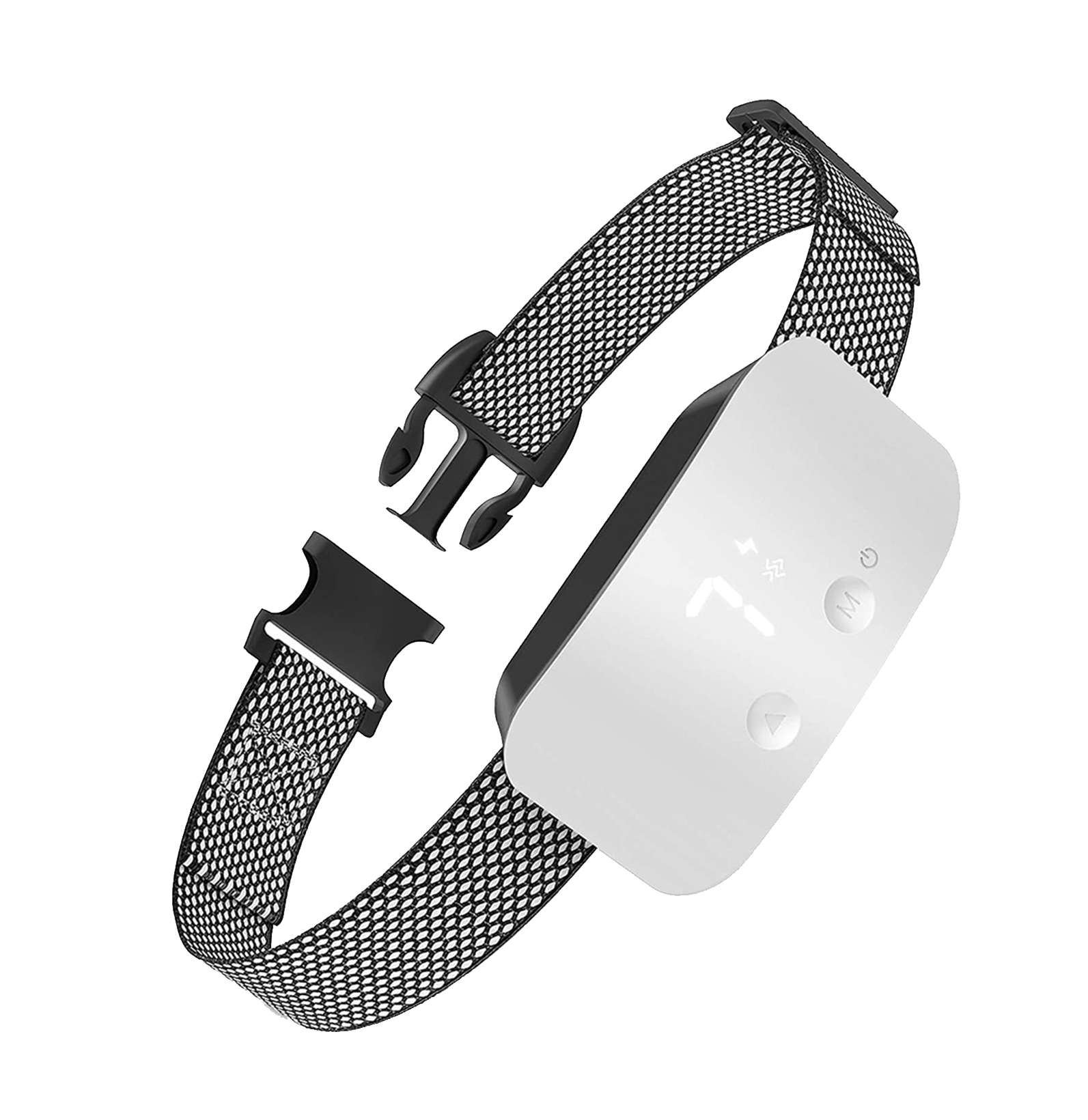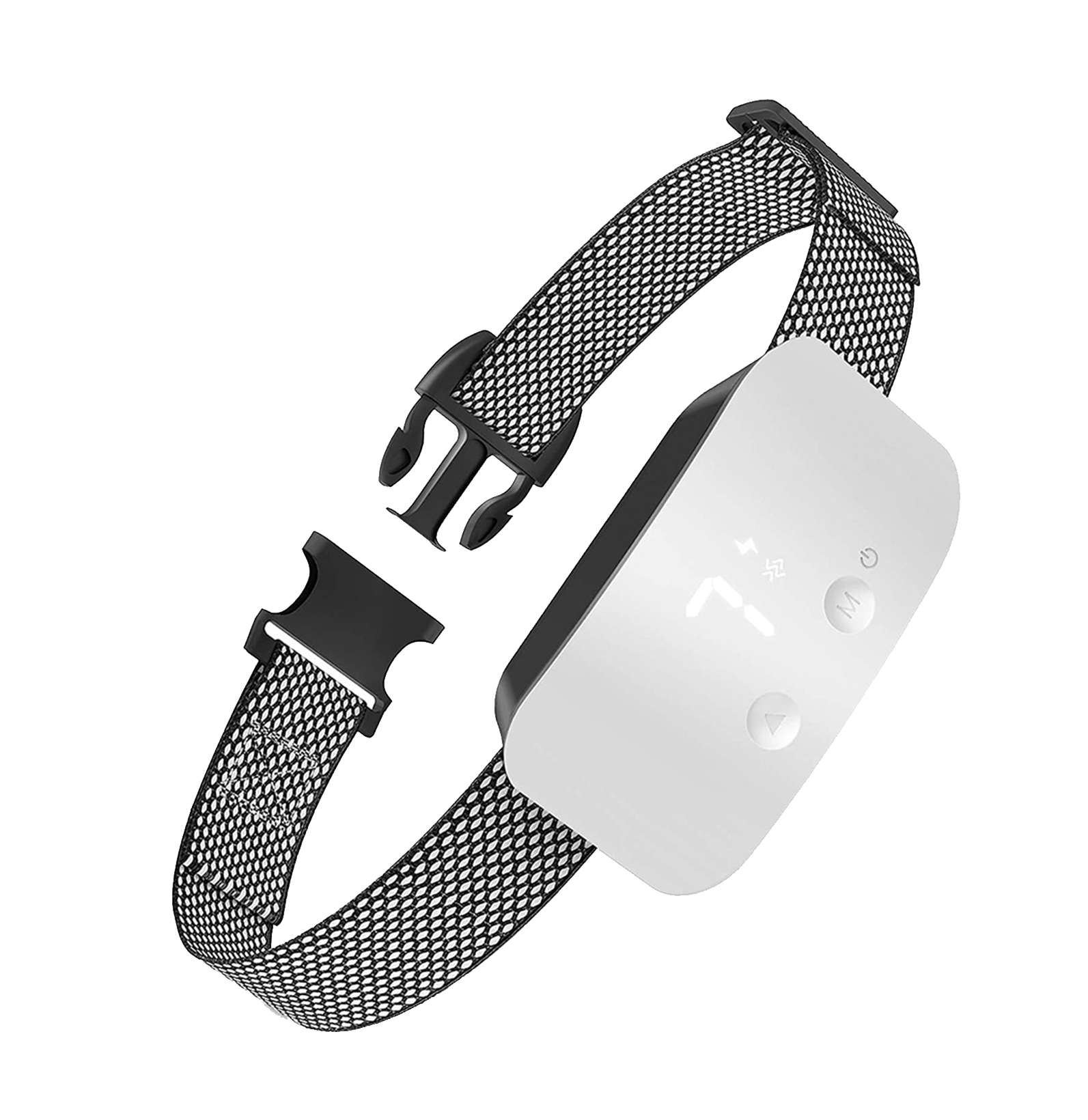 When considering anti-bark collars, the Bark Beyond S2 and Sofrid S2 emerge as top choices due to their safety features, which include progressive correction and automatic shutoff. These collars work by inducing a beep or vibration when your dog barks, helping to teach them that the behavior is undesired. Additionally, both collars have rechargeable batteries and durable, waterproof designs, making them ideal for training.
How Do No-Bark Collars Work?
Anti-bark collars, also known as no-bark collars, work by detecting a dog's bark using sound or vibration sensors. Once triggered, the collar delivers a mild stimulus (such as a beep, vibration, or spray) to interrupt the barking behavior. Over time, dogs learn to associate the stimulus with their barking and, as a result, reduce excessive barking.
Best Way to Stop Nuisance Barking
If your dog barks vigorously, he probably wants you to investigate something. You should probably look at what your dog is barking at and tell him, "Good guarding," pat him, give him a treat, and call him back inside.

In this scenario, your dog will interpret the sequence and understand that you responded to whatever he was barking at and that no danger or problem was detected. So, there's no need to continue barking!
Training to Stop Excessive Barking
While bark collars can be helpful, integrating positive reinforcement training and behavior modification techniques is essential in addressing your dog's excessive barking.

Consult a professional dog trainer or veterinary behaviorist to create a personalized training plan considering your dog's breed, personality, and environment. As usual, always rule out health issues contributing to barking with your veterinarian.
What's in a Bark?
Understanding barking and bark variations and their meaning is key to being a pet parent. If barking is combined with low-pitched growls, there is the threat of aggression. Before opting for a bark collar, try to figure out the reasons for vigorous barking and work with your trainer or veterinary behaviorist.
Duration of a Bark
When trying to decipher what your dog's bark means, you should also consider the duration of the bark. The longer the barking, the more likely your furbaby is to make a conscious decision about what he will do next and what is happening in his immediate environment.
Excitement Barking
If the barks are short and frequent, your dog may display excitement and urgency, but if the barks are evenly spaced out, there is a lower level of excitement and a mild interest in what he's barking at. As for multiple barking outbursts and many repeated barks within the minute, this displays urgency and even crisis mode.
Loneliness Barking
If you're at work all day, your dog may be lonely at home all alone. If you hear a long string of solitary barks, with pauses between them, this would suggest that your dog is lonely and is asking for companionship. Doggy daycares are a wonderful alternative to staying home alone all day.
FAQ's Do Bark Collars Work?
Q: Are bark collars a good idea?

A: Bark Collars like the Bark Beyond S2 and the Sofrid S2 help curb excessive barking by up to 98% within the first couple of days. These best-selling dog bark collars are lightweight, adjustable, and suitable for various dogs.

Sofrid S2 and Bark Beyond S2 can be easily put on with an easy click and feature Smart AI chips that ensure correct activation. We like these collars because they offer seven strength levels of adjustment and allow you to use only the beep and vibrate modes for training. Both these high-tech bark collars allow for easy fitting and comfort and can be worn on pups six months and older.
Q: Are bark collars successful?

A: Pet parents faced with the challenges of excessive barking can now turn to high-quality smart AI bark collars to help them out. Bark collars like the Bark Beyond S2 and Sofrid S2 offer pet parents a shock-free experience while training their furbabies via beep and vibrate modes and seven different strength levels.
Q: What are the best bark collars?

A: The best anti-bark collars, like the Bark Beyond S2 and Sofrid S2, feature Smart AI technology that addresses excessive barking safely and reliably.

Both bark collars allow for humane training and include two silicone sleeves to protect your dog's skin. When used with positive reinforcement, the bark collars are safe and work quickly via beep and vibrate modes.

In addition, the Bark Beyond S2 and Sofrid no-bark collars feature two stylish colorways: white and black, and a money-back guarantee.