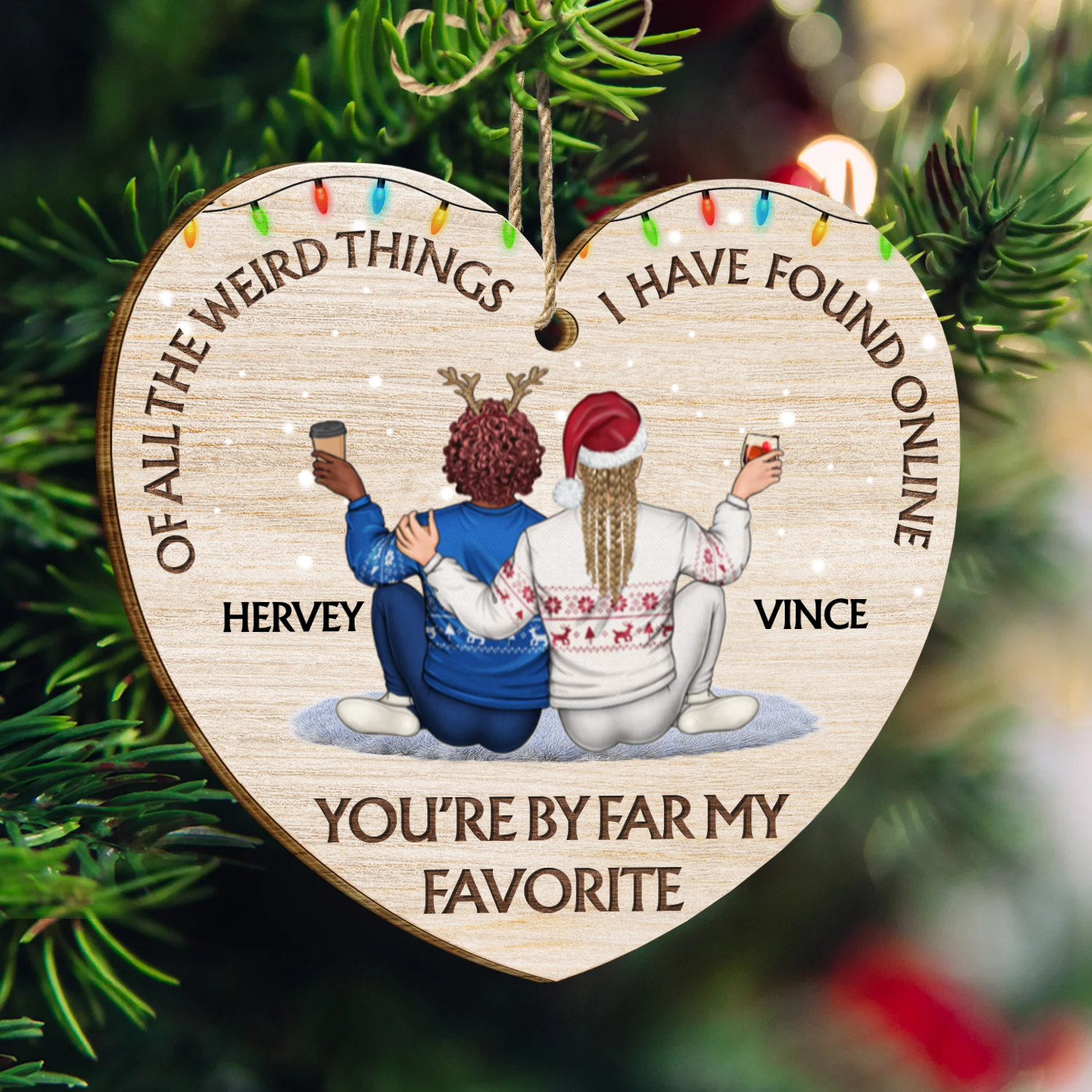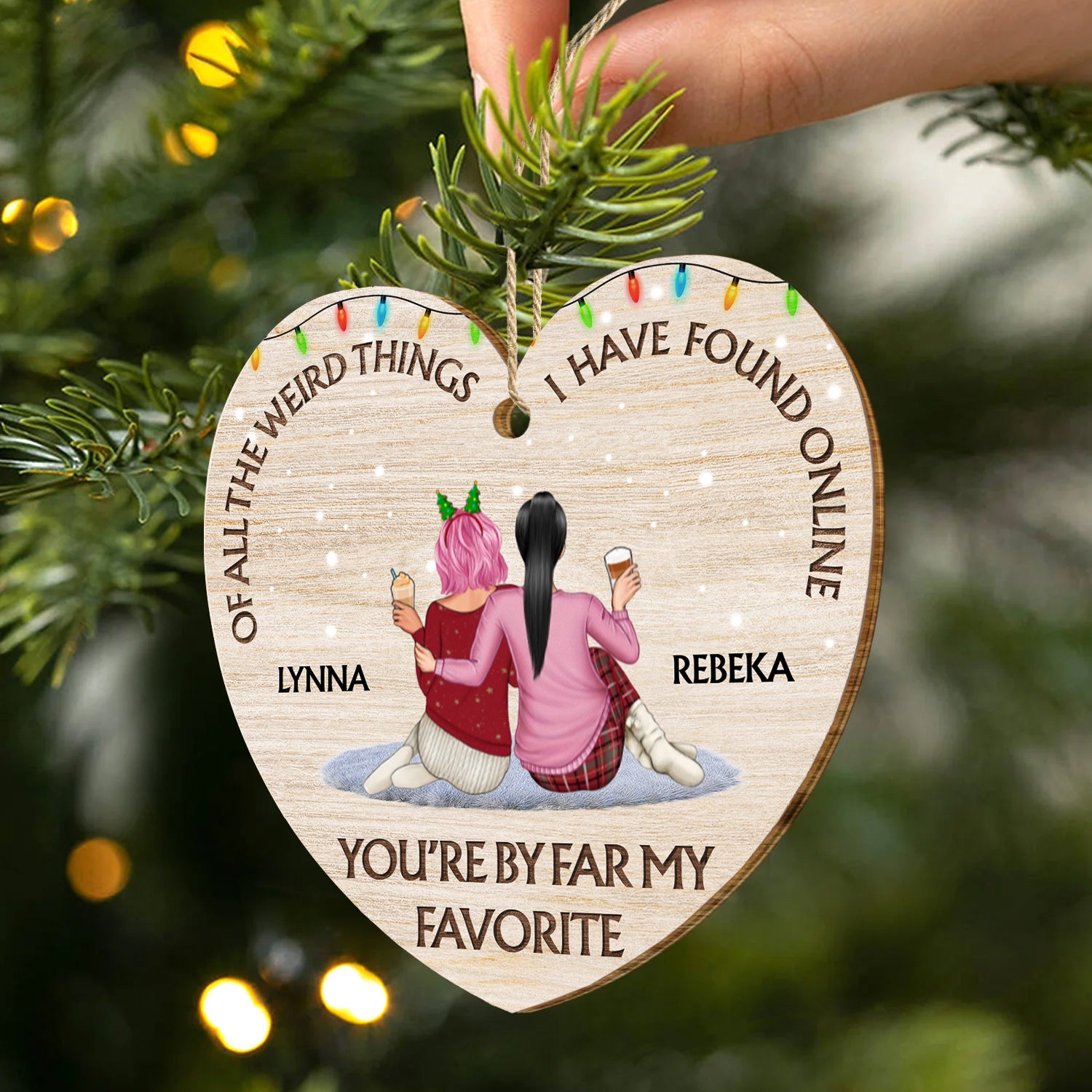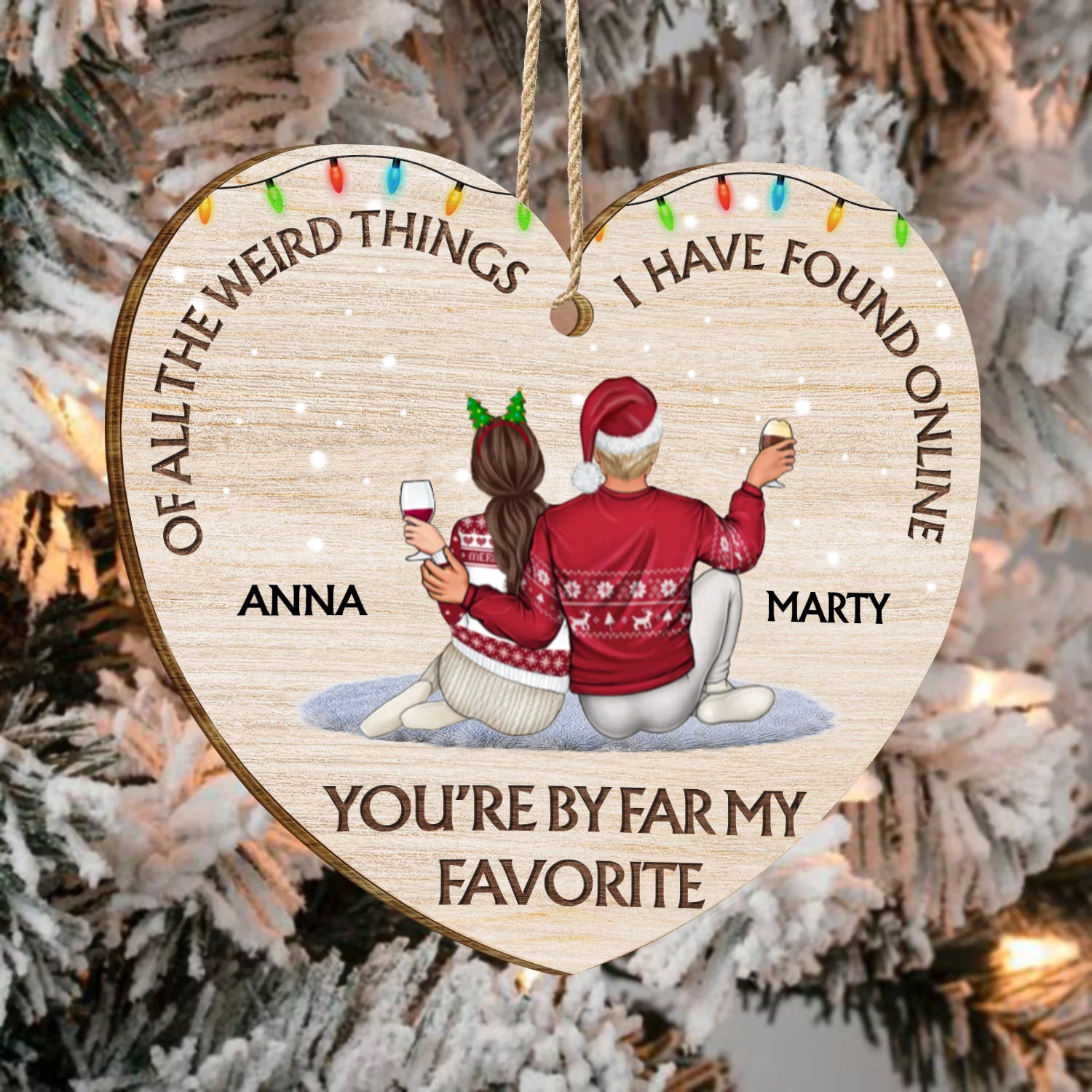 Of All The Weird Things - Christmas Gift For Couples, Husband, Wife - Personalized Custom Shaped Wooden Ornament
Sale price
$15.95
Regular price
$20.00
Tax included.
🎄 2023 Christmas Cut-Off Dates
Free Shipping:
Order Today And Get It Before Christmas!
Item details
Get in the festive spirit with our awesome Personalized Custom Shaped Wooden Ornament! This is not only a must-have item for your house in holiday season but also a perfect gift for your spouse and a good present for your friends, family, or anyone.
Message: "Of all the weird things I have found online, you are by far my favorite".
Description
This is a customized product with a customized design.
High-quality material - Made of environmental-friendly fiber wood, nontoxic, odor-free, and exquisite craftsmanship. 
Best technique - All the molds will be put into a 3.9×3.9 inches wooden sheet for cutting. The laser-cut technique turns out precise cutting, a smooth surface and neat edges without burrs, friendly to use and won't scratch hands. Vivid color printing.


Easy to hang - The top of the ornament is perforated, you can hang it with the provided rope anywhere you want to decorate such as windows, walls, ceilings, plants, etc.

Package: 01 wooden ornament

 

and rope included for hanging.
 Features
Material: Fiberwood
Printable area: 1 SIDE
Thickness: 4mm
Size: 3.9 inches tall (~ 9.9 cm)
            Please allow 1-3 mm differences due to manual measurement.
PERSONALIZATION: 
Please complete fields required to customize options (Name/Characteristics) and

 

recheck carefully

 

all the customized options.
Text: Standard English excluding special characters, emojis to ensure the best looking.
Characteristics: Pick one-by-one options that match your description.
The last step, click "Preview" to get a glimpse of the wonderful creation you've made 

❤️

.
📦 US Standard Shipping:Dec 10 - Dec 14
Average Processing Time: 3 - 6 business days
Average Shipping Time: 5 - 8 business days with the US, and 10 - 18 business days for the rest of the world.
Customization at Its Best: Make it uniquely yours by adding your dog's name, a beloved phrase, or a cherished memory. The possibilities are endless, and it's the perfect canvas to showcase your pet's individuality.
Comfortable Fit: Our shirts are not just about style; they offer a snug and comfortable fit for your everyday adventures with your furry companion. Crafted with soft, high-quality materials, these shirts are a joy to wear.
Expression of Love: Wear your love for your pet on your sleeve, quite literally. It's a conversation starter, a statement of love, and a testament to the beautiful bond you share with your dog.
Perfect Gift: Looking for a thoughtful gift for a fellow pet lover? Look no further. Our Personalized Custom Shirt is a heartfelt and memorable gift that celebrates the love between a dog and its parent.
Looking For More Personalized Items? 🐾